V i r t u a l V a i r s C o r v a i r D i s c u s s i o n G r o u p
Jim Bryant
1965 Monza sport sedan
This '65 Monza Sport Sedan is my daily driver. It's a 110/Auto with factory A/C and AM pushbutton radio. A Mesa, AZ car for 25+ years, it moved with its original owner to Colorado in the early '90's, and accumulated almost 100K miles in 32 years. Always garaged when not in use, it's never been restored.
The 2nd owner bought it in Loveland, CO, in 1997, and replaced the carpet and door seals, but being in his 70's, he began to look for a 3rd owner who would give the little survivor the love and TLC he thought it deserved. After passing a tough interrogation by the 2nd owner in July '99, we signed the adoption papers, loaded the car, and trailered it home. After 26 'Vairless years, I owned a Corvair again!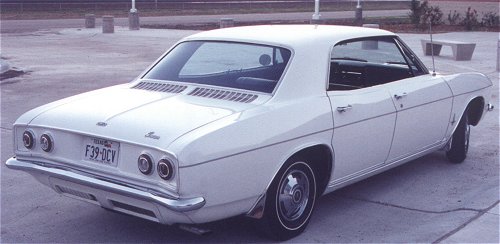 Being the only Corvair in our town of 3500 in the hill country of Texas, it turns heads to the point of being dangerous if parked in the open. It's fun to pop the "hood' for Generation X'ers' and watch their reaction when they discover it has no engine!
As new members of CORSA & the North Texas Corvair Association, my wife and I participated in an overnight rally with the NTCA in Nov. '99, and look forward to many more.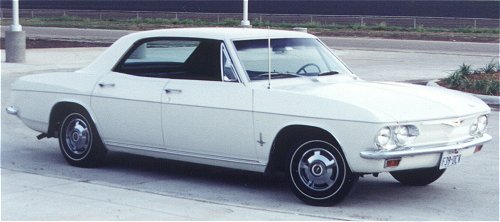 Although the original paint isn't perfect, and new rear springs are needed after 35 years, the interior is like new, the engine uses (or leaks) no oil, and the Powerglide is fine except for some minor seepage. With the help of my son, who now wants a Corvair of his own, I've replaced belts, carbs, alternator, voltage regulator, starter, heater hoses, fuel lines, and a boxful of deteriorated rubber parts and seals. I look forward to methodically repairing or replacing everything that needs attention. In the meantime, about the most fun a 48 year-old man with disabilities can have is getting to drive a Corvair anytime he pleases!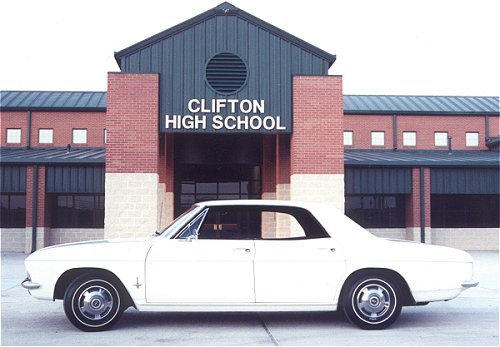 Jim's Monza in Clifton, TX, 1999