V i r t u a l V a i r s C o r v a i r D i s c u s s i o n G r o u p
Stephen Short
1964 Greenbrier and '65 Fitch
Here are a couple pictures of my latest projects:
The first one is a 64' Greenbrier Deluxe with A/C and a few mods, including Olds wheels, a cloth bucket and custom interior, a full gauge package with custom console and wood steering wheel. There's also a 1000 watt stereo. Future mods will include a re-finished Spyder dash with white VDO gauges and power locks. It already has a nice power window setup and I will be adding power to the rear 4 windows.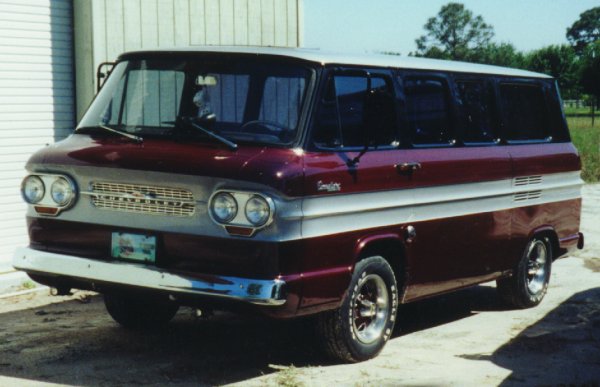 The '65 is a Fitch ITA race car with a full 8- point roll cage and a balanced 140 that puts out an honest 250hp+. Mods include highly modified Rochester carbs w/ relocated jets, ported and polished heads with 327 style lifters, custom valve springs, and 2.5" headers.
A high capacity oiling system uses an RX7 oil cooler and holds 10 quarts of Mobil 1.
Daytona here we come!