V i r t u a l V a i r s C o r v a i r D i s c u s s i o n G r o u p
Jeff & Maureen Wells
'65 Monza sport coupe
Our Corvair is a 1965 Monza Sport Coupe equipped with a 110 hp engine, Powerglide, and a black interior which we recovered ourselves. It is painted a medium blue as used on late Eighties Camaros. It was this color when I acquired it several years ago and since it suits the car so well I have kept it the same. It isn't stock, but should have been! All I know about its previous history is that it came from Virginia and had 49,000 miles on the clock. We are members of the Lehigh Valley and Blue Mountain Corvair Clubs, as well as CORSA.
We were married on September 16, 2000. Nobody had to ask about the marriage car! After I arrived, Maureen's family went to work!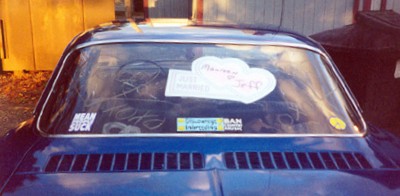 Travelers on US 209 also learned about the event.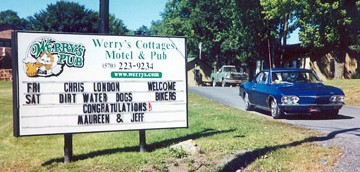 Our Corvair keeps us busy with routine maintenance and upgrading, but apparently not busy enough. We have an eye out for an early model... or is it going to be a late sedan... how about a Forward Control?